During the complicated period of pandemic covid-19 around the world, it is important to study and be active in stock of covid-19 vaccine. Vietnam already has the quality management system of vaccine complied with WHO standards. However, the production of covid-19 vaccine can not be completed without the corporation of the government, the regulatory, the vaccine's manufacturer, the researchers, the ethics committee board in biomedical research, the sponsors and the technical support partners. Vietnam is also one of 38 countries that have the vaccine regulatory complied with WHO standards.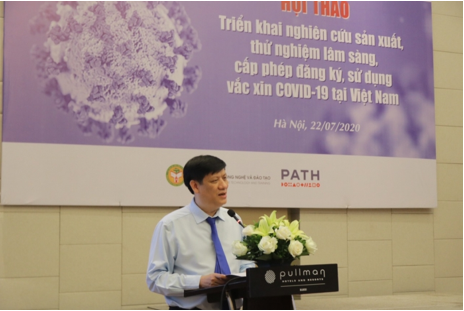 During the meeting "Implementing study, trial and approval of the marketing authorization of covid-19 vaccine in Vietnam", acting Minister Nguyen Thanh Long said: "We expect to be independent regarding covid-19 vaccine. It is important to accelerate the process of study to have covid-19 vaccine for Vietnamese people. At the same time, there is a need of regulation to access the supply of covid-19 vaccine in the world".
To facilitate the studies using for vaccine's manufacture and in the same time still ensure the safety and effectiveness for vaccine consumers, the Ministry of Health released decision No. 3659/QD-BYT regarding guideline for study, trial, the marketing authorization and usage of Covid-19 vaccine.
Administration of Science, Technology and Training (ASTT) department uploaded this decision for notification and action of related partners.
Source:
http://asttmoh.vn/ban-hanh-huong-dan-ve-nghien-cuu-thu-nghiem-lam-sang-dang-ky-luu-hanh-su-dung-vac-xin-phong-covid-19/
 Translator: CRA. Nguyen Mai Hang