At the point of time in the mid autumn, Hanoi, the ancient capital, immersed into condensed fair sunlight and cool breeze meanwhile Ho Chi Minh city was still in the hectic and busy pace of life under the heat spell, all members of SMART family from two distinct regions of the country were pumped up for the team building event taken place during the morning of 21st Sept 2018.
Prior to the meeting, all preparations were ensured carefully to be done within one week from meeting room, content, invitation, camera and other things in order to give the priceless moments for everyone when we are together.
In the team building day, the connecting line was set up between Novotel Sai Gon Hotel and Thang Long Opera Hotel to livestream the meeting simultaneously occurring in both locations. Initially, the Director Board had the first introduction and stated the meeting rationale in the formal settings, followed by the presentations of CRAs (Clinical Research Associate) who had been working for many years in clinical trials field.
Being fundamentally different from active and restless out-door activities, the event was highly appreciated due to the accumulated hands-on experience shared and precious advice enthusiastically given. Firstly, Dr Tuan Ngo, Medical Director of SMART Research Corp., had a consentive presentation giving an overview of Clinical Research in Vietnam. Then, the presentation regarding  study submission was given by Ms Truc Huynh, a CRA working in SMART Research Corp. for more than 6 years. In the next part, Mrs Huong Tran shared her experience in communication with relevant departments and administrations within Ministry of Health and Local Ethics Committees in particular, acquired during her long time working as a senior CTA (Clinical Trial Assistant). Needless to say, Clinical Study covers various procedures that arise the need of third party vendor's involvement. The rule of engagement for third party vendor was delivered by Mrs  Xuan Tran, working in SMART Research in the role of a Clinical Project Manager.
| | |
| --- | --- |
| | |
It is undeniable that CRA is really a demanding job due to the coordination with various important parties and individuals. That is the reason why we find it crucial to know how to work with other staffs and sites which was shared by a senior CRA, Ms Huyen Le based on her experience. Being overloaded with work, a CRA faces up to deadlines on the regular basis that huddles oneself beyond task accomplishment in a timely manner as well as the life balance. Dr. Nguyet Tran,  General Manager of SMART Company, had such an informative sharing about Eisenhower Matrix and Planning offering an effective way for time management and work-outcome improvement. Any question raised after either sharing all boils down to the passion of individuals in SMART family for study field which has just been introduced into Vietnam for roughly a decade. In the subsequent part, the atmosphere was completely changed with personal introductions, an ice-breaker that once again brought us together. Loving smile was the only thing that could tell more than words. Finally, the meeting ended up with photos taken to keep our memorable moments and a cozy meal in a big family.
| | |
| --- | --- |
| | |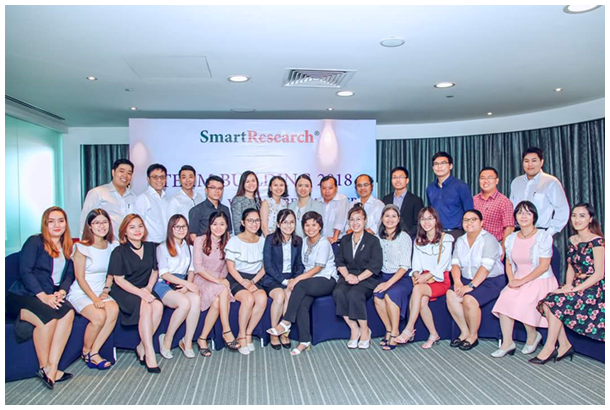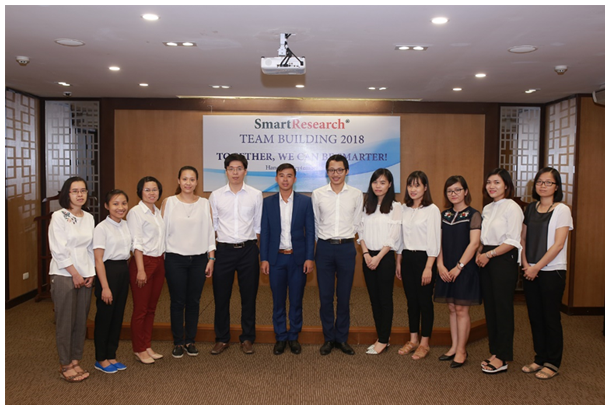 SMART Research staffs  did have a great day with experience exchange, and the opportunity bringing all members together. After all, the event fosters our proudness towards SMART Research as the young company (established in 2011) with significant expansion to become the CRO employing the largest number of staffs (40 employees, including 21 CRAs) in Vietnam.  The Company offers the supportive working environment in which every individual is encouraged to reach the better version of himself. Regarding to the sustainable development, SMART Research gradually asserts its position in Clinical Trial field of Vietnam and international market. After all, our slogan is appealed obviously than ever in the team building event: TOGETHER, WE CAN BE SMARTER.